Fate is a funny thing 🙂  We took a day off from work to head down to Ashland, VA to look around the lot at General RV.  We actually didn't really know this dealer was there until quite recently.  McGeorge's RV is visible from the road (I95) and we just assumed that was the only RV place there.  Unfortunately, they recently sold to Camping World, and we have heard such bad things about CW that we had no interest in buying anything from them.
Turns out, when CW toolk over McGeorge's, a whole bunch of the employees left and started General RV instead.  We walked in basically wanting to take a peek and see what they might have on their lot that we might now have seen before, but I specifically wanted to look at the Rockwood Windjammer they had advertised on their webpage (found it through RV Trader).  That Windjammer still checked all my wish-list boxes (outdoor kitchen, outdoor shower, 2 entry doors with one right into the bathroom, separate bunk room for the kids, tall ceilings) plus many of my husband's (aluminum construction, insulated heating/cooling, enclosed underbelly and "U" shaped dinette) but he was concerned about the length (34'7″).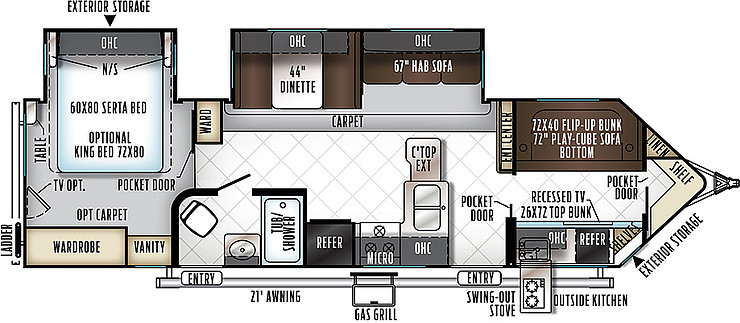 We were greeted at the front door by a salesman and lead to his desk where he sats down with us and asked us what specifically we were looking for as well as what kind of tow vehicle (TV) we had.  (Before you buy, PLEASE click here to read our post about tow vehicles.  We hope to save you from making the same mistake we did).  He suggested several trailers on the lot and we went out to look.  I honestly can't even remember the first trailer he showed us, but I do know that it had two entry doors and one of them went right into the bathroom, which is a feature I love, and there was a metal cleat on the rear by the kitchen that you could use to hook a dog leash which I though was a neat feature.  
After exiting that one, he took us into a Grand Design Imagine 3170BH.  Oh boy, was I in love!  The only thing I didn't like was that the 2nd entry door went into the MBR and not into the bathroom.  I just keep thinking that the kids are going to enter/exit the trailer for two things… to use the bathroom and to get a snack or drink.  Having an outside door that enters right into the bathroom and and outdoor kitchen with fridge that they can keep food and drinks in will minimize the amount of dirt tracked through the trailer.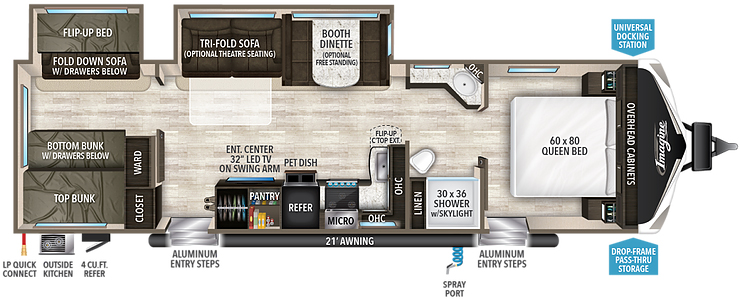 We had never heard of Grand Design so our sales rep talked in length about the
Our sales rep also wanted to show us another model of the Imagine, the 2800BH.  We had to drive to another lot to see that one.  Coincidentally, it was sitting right next to the Windjammer.  The 2800BH does not have a separate bunkroom, the bathroom is smaller and the outdoor kitchen has a smaller fridge. It is also 1000 pounds lighter and 3 feet shorter than the 3170BH. Both were beautiful trailers.
We stepped into the Windjammer after the 2800BH and were surpsied to find that as spacious as it seems on our first time looking at it, after being in the Imagines, it felt smaller.  The ceiling seemed lower (our oldest is 6'5″ so that's a big deal).
My husband wanted to go back and look at the 3170BH again.  Now, if you ask him, he'll tell you that I was the one that "HAD" to have the 3170BH, but honestly, he's the one who surprised the heck out of me when he was sitting there in the (heated, massaging) theater seat and said "let's do this"!
We were able to negotiate the price of the trailer down by 27% and had them include slide toppers and a second air conditioner. Our research indicated that 25-30% off the list price is a pretty typical deal, so we felt pretty comfortable with the numbers.  
We set up a delivery date for the following Thursday, and just like that, we were trailer owners!!!
Click to view the Imagine 3170BH Brochure