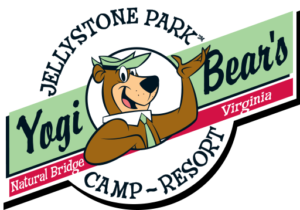 ⭐️⭐️⭐️⭐️ Jellystone Park in Natural Bridge Station, Virginia sits on the James River, nestled in the Virginia's awesome Shenandoah Valley between the Blue Ridge Mountains and Interstate 81. 16 Recreation Lane – PO Box 266 – Natural Bridge Station, VA 24579 – (540) 291-2727 [email protected]
August 24-27, 2018
Yogi Bear's Jellystone Park of Natural Bridge
Summary
To get to this campground, you do need to travel on a narrower, winding road to the bottom of an incline. The actual campground road is unlined and quite narrow. We have a 31 foot trailer and were able to access all areas without issues, although it did feel a bit tight.
Arrival was easy. We were greeted at the entrance, given our park map, activities information and drive to our site by an employee in a golf cart. Upon arrival at our site, we discovered that the hookups were at the front of the site which presented a bit of a challenge for us as our electric cable hooks into the back of our trailer. Our site was mostly level and had gravel. We did need to use leveling blocks under one side of the trailer (about 4 inches) to level. Our site had a picnic table and fire ring.
The campground is separated into two sides by the main road. The main side is right on the James River and has access points for tubing, kayaking, fishing and swimming. There are camp sites that are right on the river front, although it seemed very crowded and the sites are small.
The main side also includes most of the activities and amenities. There is a recreation hall, a camp store, a concessions stand, and a restaurant. Wood for fires is available or purchase and there is a propane refill station.
It's sometimes difficult for us to give a campground rating as it really depends on what you're looking for. Since we travel with a 12 and 13 year old, I've decided to rate based on kids' enjoyment and then let you know what you may not like as an adult!
We chose this campground for the kids' amenities and that is why we're giving this a 4 star rating. The kids had a BLAST! There is a nice pool, a "Splash Pad" with a lot of different options for getting wet safely for non-swimmers and two good sized water slides. Down the hill, there is a swimming "lake" with a sandy beach, an inflatable Wibix Obstacle Course and a long inflatable water slide into the lake. My kids spent the better part of two afternoons in the water area and would have stayed longer if we'd let them.
There is also a nice playground and two jumping pillows (my daughter's favorite)!
On our side of the campground, there is an outdoor movie screen were they showed a family movie one night and another playground.
Our site was in the trees and had nice shade. There seemed to be a good variety of sites available: pull-thru, back in, tent, shade, full-sun in the field… whatever you are looking for.
The overall feel of the buildings and facilities was that they were older but maintained. The bath house was clean-ish and nicely air-conditioned. I love campgrounds that provide soap and towels for hand washing in the facilities so you don't always have to carry your own. Our trash was picked up from the front of our site daily.
Our main issue was the dust. Even with the speed limit set at 5.5mph, every time anyone drove by in a vehicle (car, truck, golf cart), it kicked up quite a bit into the air.
There were a lot of family activities in the Natural Bridge area and I think we easily could have stayed another day or two. We would definitely consider returning to this campground if we head back to this area.
Things to do in Natural Bridge:
Natural Bridge State Park
Virginia Drive-Thru Safari
Natural Bridge Zoo (please read reviews on this… I'd never go)
Natural Bridge Caverns
Hull's Drive-In Movie Theater
Stonewall Jackson House (Virginia Military Institute – VMI)
George C Marshall Museum
Lexington Carriage Company
Dinosaur Kingdom II (Civil War with Dinosaurs???!!!)
Wilderness Canoe