#RVStickerClub Trading
To be honest, I didn't really know that this was going to turn out to be a thing!  Back in February of this year, I came up with a custom logo for our site.  I wanted to find something easy to swap with other campers along the way so I ordered some stickers.  Once I posted our new swag on Instagram, it didn't take long to figure out that there were other campers out there doing the same thing... so we started trading.  Pretty soon @MyRVTherapy suggested we use the hashtag #RVStickerClub and it just kind of grew from there.
So... why sticker trade?  It's a great way to connect with other campers, whether they are full-timers, part-timers, weekend warriors, retirees, travel workers, etc... we're all in this #RVFamily together and its a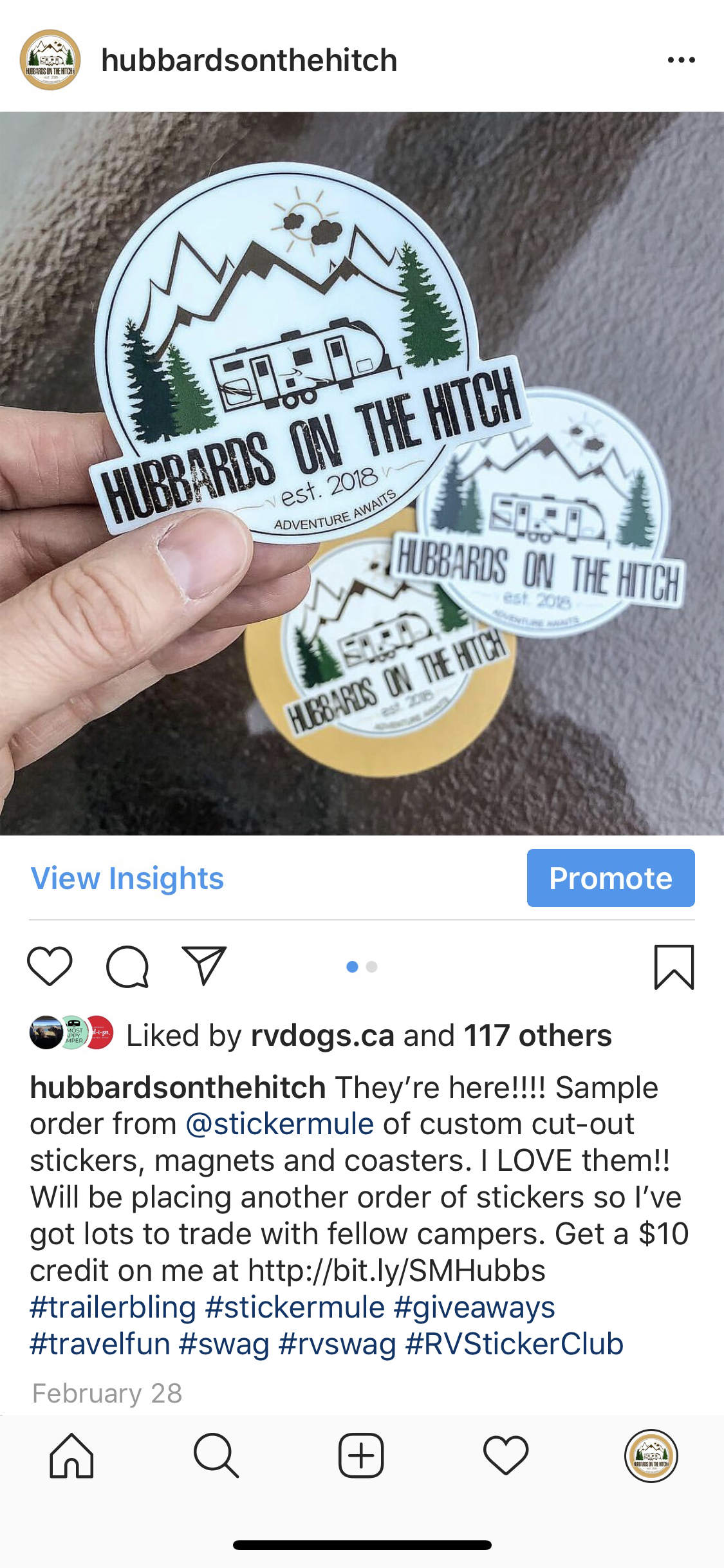 wonderful way to build the community.  You really feel like you are making actual connections with people, even though you've never met.  Knowing that you have shared experiences creates an almost instant bond.  And... if you're lucky, there's always the chance you'll run into each other somewhere out on the road.
As an added bonus, you get MAIL!  Like actual, real life mail.  Not junk or ads or bills, but letters.  It makes heading to the mailbox fun again 🙂
First, you need to decide on a name and a logo.  Some people get very elaborate and others stay very simple.  Some even have their kids draw their logo for them!  Just make sure that you feel like the image reflects YOU.  Once you've decided on your logo, it's time to order your stickers.
While there are probably lots of online store that sell custom stickers, we've been using StickerMule and have been really happy with them.  The stickers look and feel great, stick well, are weatherproof and BONUS, the company is really nice to work with and has amazing customer service.  They frequently have amazing sales (for example, we typically wait to order until the 50 die-cut stickers for $19 special) but if you'd like to give them a try, if you FOLLOW THIS LINK, you can get a $10 coupon from us to use in the Sticker Mule store.
Finally, once your stickers have arrived, it's time to start trading.  You can search the #RVStickerClub on Instagram to find people to  connect with and send them a DM asking to trade.  Be sure to share a post and tag them when their sticker arrives.  I've listed all of the Instagramer's we've traded with, but I know there are so many more out there so have fun making your own connections (and feel free to tag us and let us know)!!!!
Learn More
This was a tough question for me for awhile.  I really wanted to be able to put them on something portable so that if (when) we get a new rig, I can take them with me.  After a lot of internet searching, I came up with the idea of a photo frame.  The one pictured is an 18x24 frame from Michaels.  I removed the inner paper and used command strips to hang it to the sliding door on our bunk room.  It has worked really well and I can definitely move it whenever I want to. My only problem now is that it is FULL!!!  I'll pick up another frame and will need to find another spot in the trailer to hang it!
I have seen other sticker traders who have been sticking them onto their slides, their storage doors, or the inside of their main door.  Whatever they decide... it always looks great!
Here's who we have traded with:
@rollingfarmhouse @rvwannabes @rvfitchicks @raising_wanderlusters @gotraveltrailer @thereevesroute @thecraftyvoyager @thishomelikestoroam @five2gorv @rvingourway @gogogallaghers @myrvtherapy @gypsynaround @gratefulglamper @six_point_adventures @retireewannabes @traveling_tortoise_bus @bonnefires @howweroll2019 @outoftheboxcamping @living_a_great_story @2_moms_and_a_trailer @beerving_america @scenicroutehikingboots @humphreywhaleofavan @rv_travel_adventures @chasethelifeyoulove @hintonthetrail @blacktoptrekkers @hyattfam_5 @thedaywemake @little_trailer_big_adventures @masonsinarvjar @trekersorg @our_tin_can_cottage @wheelsuprving @greygoosetravels @trippinbrehenys @thecapandhismermaid @therollingnickells @followyourfreedom @thecamperhouse @fiftyandfifthwheeling @ourtimetravelers @wanderingwknds @rollin.with.it @thehoneymovers @llamallamaadventure @theburkhartsabroad @rvontheroad_again @silverbadgeradventures @what_r_we_waiting_4 @tworestlessretirees @northeastrvnewbies @coastingcastaways @sidetrackedbyadventure @hunt_4_adventure @suddenlyminimalist @rvonthewayside @pnwadventure @seizethedaydream @tkandgman @thehappygalavanters@ourhausonwheels @wandering4rice @fernwehfour @myrtlemaesmiles @servingandsightseeing @thetinycampers @lost.in.states @giffordsonthego @ournationaladventure